LA BALLESTA is the film, television, cultural and entertainment content production company, based in Barcelona, created and directed by director and producer Toni Marin Vila. La Ballesta creates, develops and produces stories from its own original ideas and arguments, and adapted from other national and international authors, acquiring their rights, and seeking to strengthen projects with local alliances, as well as from other countries and regions. La Ballesta especially believes in the strength of stories, and that is why it tackles all kinds of genres, dares with different formats and takes advantage of all the production techniques that benefit the story, especially interesting and exciting stories.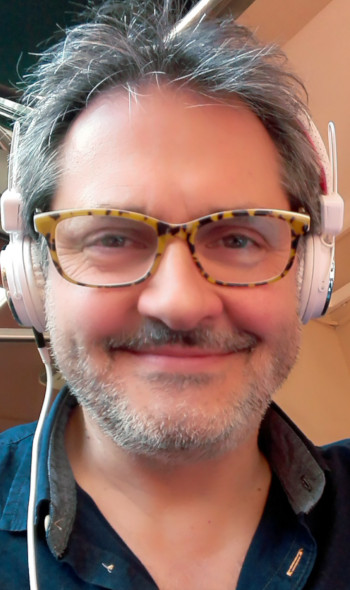 (Barcelona, 1964)
His career begins at Spanish film and television industry, initially at Spanish public broadcaster TVE (Televisión Española, SA), after finishing High School and A-level GCE at Escoles Pies,  after working in radio and theater play companies in Barcelona and abroad, and after getting a Degree in Radio, TV and Film Direction and Production, at IORTV-RTVE, in 1989.
At TVE, he begins working as assistant director, director and deputy director at Sports Department, being Carlos Martin TVE Sports Department general manager.
For two years (1991,1992) he was also member of the RTO production team (Olympic Radio and Television organization), in charge of the TV production designing and supervising quality control of the international clean feed at the International Broadcasting Center-IBC-COOB'92, for the 1992 Olympic Games held in Barcelona.
Since 1993, he works at and for Televisió de Catalunya (TV3), ETB, TVG, CANAL 9, TELEMADRID, and for private broadcasting and production film and television companies, institutions, and some other public and private audiovisual and cultural organizations as well, such as Mercuri, PMAV, Museu d'Història de Catalunya, Fundació de Televisions Locals de Catalunya, Blanc Frame/Sinfin SL, Hamlet SL, D'Ocon Films, among others).
In 1997, he is awarded with Premi Jaume d'Urgell, for scriptwriting and directing the documentary "Naturals de Catalunya", produced by BLANC FRAME/SINFIN.
In 1998, we begins his career in animation and children's programs, as animation TV series director, creative, head of direction department at TVE children's club "TPH CLUB", and until 2003 as head of audiovisual projects at D'OCON FILMS PRODUCTIONS, where he coproduced with ANTENA 3, TV3, and with German, French and Nord-American production companies.
Independent director and scriptwriter himself, he presents in 2005 "Acaballao", a documentary film, which premiere took place at Catalunya International Film Festival in Sitges.
From June 2005, until October 2011 he was in charge of projects, development and executive production for animation, documentaries and live action productions (from 2008 until 2011, together with his colleague producer Tono Folguera,) at CROMOSOMA, a production company, based in Barcelona.
In 2008, he was named head of international relations at Fundació Digitalent- a CROMOSOMA foundation- where he was in charge of the department until the end of 2010.
From 2007, he has also been working on teaching, research and consultancy, providing and collaborating with universities, institutions, private companies and public administrations and governments in Spain and Latin America. He is associate professor of Master in Audiovisual Production Design and Management, at Facultat de Comunicació Audiovisual de la Universitat Autònoma de Barcelona (UAB), – a Master in collaboration with Universidad de Antioquia (UdeA), Medellín, Colombia. He is associate professor at Grau de Comunicació Audiovisual de la Universitat de Vic (UVIC). Workshop teacher and external professor of Seminario Internacional Niños y Medios de la Carrera de Comunicación Audiovisual del DuocUC, Universidad Católica de Chile.
He has been film and TV tutor for documentary series projects at Dirección de Comunicaciones, Ministerio de Cultura, Gobierno de Colombia. He is also international consultant for M3V (Medellín Tres Vías), promoted by Empresas Culturales, UdeA and AVA (Audiovisual, Videogames and Animation Producers Association in Medellín, Antioquia (Colombia).
He has been giving conferences, master classes, pitching sessions and workshops on film and TV projects, evaluating pitching sessions (Facultat de Ciències de la Comunicació Blanquerna, URL), and has been named jury for film and TV funding commissions in Spain and Latin America.
At the moment, Toni Marin Vila is sharing different responsibilities in both culture and audiovisual industries. From 2003 up to the present, he has been head of new markets and areas at PLAYMEDIA, a design-events-museography and experiential marketing company, based in Barcelona. And referring to culture and audiovisual industry, he created in 2011 his own culture & entertainment production company, LA BALLESTA, where he was the founder, and where he is company director and producer.
He is member of ACADEMIA DE LAS ARTES Y LAS CIENCIAS CINEMATOGRÁFICAS DE ESPAÑA (Spanish Film Academy), member of  ACADÈMIA DE CINEMA CATALÀ (Catalan Film Academy), member of COL·LEGI PROFESSIONAL DE L'AUDIOVISUAL DE CATALUNYA ( Catalan Professional Audiovisual and TV Association), member of FUNDACIÓ APLICACIÓ foundation, and member of the think tank CATALUNYA SOCIETAT CIVIL.
He speaks Catalan, Spanish, English, and Italian. He also speaks French at a medium level. He studied piano and music at Taller de Musics, being taught by Maestro Josep Pons. Marin Vila has coursed studies of art & culture, film history, Nord-American film history, Neorealism and Expressionism film history at IEN, Barcelona. And he coursed studies of music for film and documentaries with Maestro José Nieto. He also has studies on Cuban art and culture.
Toni Marin Vila has been awarded –among others- with:
Ondas ("Estadio 2", best sports TV program), as director
Jaume d'Urgell ("Naturals de Catalunya", best cultural program), as director & writer
Zapping ("TPH Club", "Rovelló", best children's program), as director
Forqué, ("Bicycle, spoon, apple", best documentary film), as executive producer
Gaudí, ("Bicycle, spoon, apple", best documentary film), as executive producer
Goya ("Bicycle, spoon, apple", best documentary film), as executive producer
Goya ("Wrinkles", best animation film), as executive producer
Goya ("Wrinkles", best adapted script), as executive producer
Oscar ("Wrinkles", short list for best animation film 2012), as executive producer
At the moment, Toni Marin Vila lives in Barcelona and he is working on developing and preproduction of two documentary films, an animation film and a live action film, as well as in a tv sitcomy among other and diverse projects.
La Ballesta ( www.laballesta.net ) is his own blog and site on the net.
Toni Marin Vila at IMDB: